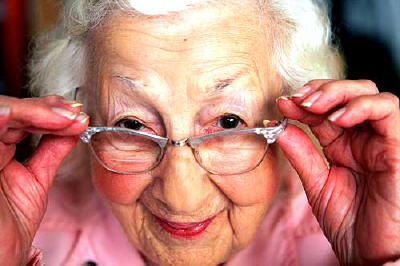 She's appeared on a recent episode of MADtv playing Vanna White (of Wheel of Fortune fame) forty years in the future. You may have seen her in commercials for Lexus or Chase Bank or as a cheerleader on ESPN. She's 97-year-old Mae Laborde and she's one of the hottest properties in Hollywood today.
No, it's not unusual to be nearing 100-years-old and be popular in Hollywood. Bob Hope, George Burns and Gloria Stuart are just a few who can lay claim to that. But what makes Mae more than just a little special is she's only been acting for four years — she didn't get her Screen Actor's Guild card until she was 93!
Thank you Mae for proving once again it's never too late to live your dream!