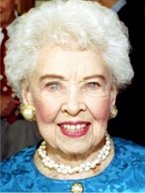 Doris Eaton Travis appeared on Broadway for the first time as a Ziegfeld girl when she was just 14 years old. The youngest Ziegfeld girl ever.
In 1998, she made Broadway history by appearing at The New Amsterdam Theatre after an eighty year absence where she tap danced in a benefit for AIDS.
At the tender age of 101 she received an honorary doctorate of humanities from Oakland University and two years ago wrote and published a book, "Days We Danced: The Story of My Theatrical Family From Florenz Ziegfeld to Arthur Murray" (Marquand Books).
Today she is enjoying her third career. After dancing and acting she and her husband owned and operated the nation's largest chain of Arthur Murray dance studios. In 2000 she and her late husband purchased a 400-acre horse ranch which she continues to operate.
Despite an extremely full life, she still found time to enroll at the University of Oklahoma, where she became the oldest graduate at age eighty-eight, with a degree in History.
And when the curtain goes up in March of this year at The New Amsterdam, Doris will once again be on stage. She'll be 102-years-old, proving once again that it's never too late!