After five years of silence...a top-ranked Internet Infopreneur finally spills the beans and reveals his secrets of...
"How I created a six-figure income giving away a dead guy's book."
"It's a simple system of solid principles that anyone.... living anywhere... can copy. I should know. It's a system I copied from super- successful Internet marketers and it's brought me a literal fortune in just a few years time."

"Vic is brilliant at Internet marketing."
- Loral Langemeier
Best Selling Author of The Millionaire Maker

From: Vic Johnson
2008
Melrose, FL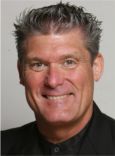 Dear Friend,
For as long as I can remember I've wanted to create a large income that:
was partly residual in nature -- continuing to pay me passive income when I wasn't working and well into the future,

could be earned from home -- I hate rush hour traffic and going to an office,

wouldn't require me to mortgage my house, my kids and everything else I owned,

could be earned doing something that I enjoy doing -- I've done plenty of things I didn't like doing.
In short, I wanted a "dream business."
Little did I know that a simple and basic website I launched in 2001 --- hoping just to make an extra $10,000-$15,000 a year --- would give me everything I was looking for...and then some.
I still find it hard to believe that I spend most days in shorts (or my pajamas) tapping away on a Dell laptop. Even more amazing is it's paid me more in a day than I used to make in a year of 60-80 hour work weeks.
Almost from the first month I started my business, I've had email and phone requests from people who wanted to know what I did to achieve success. Hardly a day goes by that someone doesn't ask me for help with their website or product. It would take more than one full-time assistant to adequately address all of the requests I get.
So after five years and thousands of requests -- I've finally decided to spill the beans -- to go on the record and share the exact steps I took to get where I am today. Steps that I believe anyone (and everyone) are capable of taking. I'm ready to share with you How I Created a Six-Figure Income Giving Away a Dead Guy's Book.

"Great stuff! Easily worth many times what you are charging for it." - Tom Lister
"I listened to it and wrote everything down point by point and did as much as I could. I made $8,000 on one site alone." - Roger Gauthier, CEO, Tri-Vision Global, Inc.

The "secrets" I reveal in this first-person presentation are the same strategies I use on a daily basis to continue to build an Internet income that places me in the top 5% of all Americans.
Here are just a few examples of what my strategies have accomplished:
In five years I've given away over 400,000 eBook copies of James Allen's classic book, As A Man Thinketh, to visitors from the four corners of the world.

I've also given away 75,000 eBook copies of Russell Cornwell's classic Acres of Diamonds.


I've built the largest library of personal development/self-help eBooks on the web.

We've sold more eBooks in one year for some of our authors than the average author will sell in print books during the entire life of their book.


I was the first person in personal development/self-help to recognize the coming boom in downloadable mp3 audio (long before anyone had heard the word iPod).

We were the first to deliver some of the biggest names in personal development -- Jim Rohn, Brian Tracy, Bob Proctor, John Maxwell, and others -- by downloadable mp3 audio.


I've built six successful websites with three of them ranked (for traffic) in the top 5% of all websites in the world.

With a few minor tweaks and improvements, the formula has been the same for each one.


With no prior experience, I built my first opt-in email list to 35,000 subscribers in 10 months. Since then I've increased my subscriber base to over 300,000 strong.

Along the way I also created an automated "drip-marketing" system that earns me thousands of dollars a month....while I sleep....while I play....while I'm at home....even while I'm exploring some of the great restaurants and sites of Europe.


My Internet businesses have earned me $5,000, $10,000, even $20,000 in a day. That's more money than I earned in the entire year of 1997!

Month in and month out I earn more than the average American earns in a year! Below is a screen shot of a sales report from just one of our five Internet shopping carts. In 2006 that cart alone registered almost $400,000 in sales. And it gets better!
2006 Results from one of our five Internet shopping carts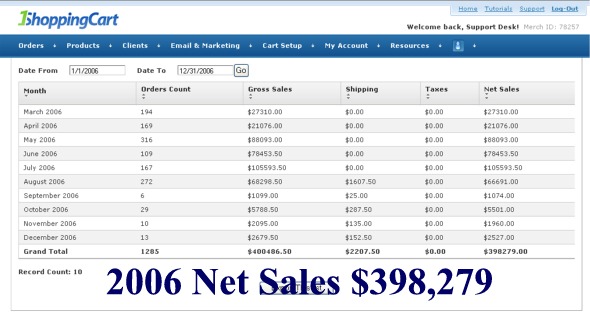 Update: One Year later - Results from one of our five Internet shopping carts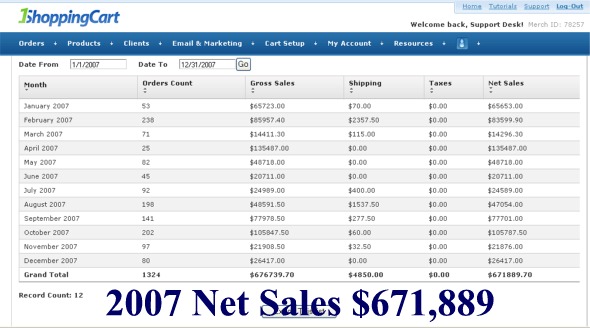 That's a 69% increase in that cart alone!
That's quite a bit of money for a business that I started for far less than the cost of my last vacation. Please keep in mind that these amounts don't take into account my expenses, but my strategy enables me to have extremely low overhead and a very high profit margin.

The money I earn is fantastic (and some days has me pinching myself to make sure it's all real), but that's just a part of what having a mostly automated business does for you.

The money put me in a three-story dream home on a 6,000 acre recreational lake --- but my automated system is what allows me to enjoy it.

Some mornings I'll take my coffee and wireless notebook out on the upstairs deck and watch the wildlife while I check my email (there's a beautiful hawk that calls my backyard home). Other days Lisa and I will take the boat (and a little bit of work) and go out to the middle of the lake and just drift while we read or sun or whatever we want to do -- some days we never encounter another soul. When the Redfish are biting in the middle of the week at Mosquito Lagoon --- I've been there. When the Braves are in Spring Training in Orlando --- I've been there. Several years ago I holed up in a cabin in the North Carolina mountains and stayed ten weeks. Last year we spent three weeks all over Italy. All the while I was earning money, 24/7, from my various websites.

I certainly hope you don't think I'm bragging. My results are no where near the results of some Internet marketers (I know of one guy who did $1 million in sales in ONE DAY!). But my results are REAL. Selling REAL products and services to REAL people. And considering that I was evicted from my home eleven years ago -- and then lost my last remaining car the next year -- my results prove that it doesn't matter where you are -- only where you're going!

Now I'll be frank and tell you that I don't consider this information to be especially unique --- everything I've ever done on the Internet, I copied from someone else. But I suppose my biggest strength is I knew who to copy from :-) And I knew how to systematize it so that I could apply the same formula repeatedly and get the same results. And it's not rocket science --- it's more like 1+1 = 2.

Here's some of what I share with you in this program:
How to decide what to sell on the Internet
Identifying niche markets with little or no competition
What almost every website visitor is looking for --- and how to give it to them
Why you don't need technical knowledge to build a successful website
What your number one business goal must be if you expect to build long-term web income
How to set up an automated system that literally makes money while you sleep
The Number One reason most websites fail and how to avoid it
How I regularly net $5,000 a day and more with a handful of employees (and they're all family)
How to get an extra 20% in sales without increasing traffic
And many more inside secrets

This is not pie-in-the-sky theory but the actual steps I've taken to build six profitable websites generating a huge six-figure annual income.
Turn your speakers on and press Play
This is just a small sample of what you'll learn


"One of his ideas added over $100,000 revenue in one month."
"Vic Johnson is a great friend.

His advice has added tens of thousands of dollars to my business

over the past year. In fact, one of his ideas added over

$100,000 revenue in one month. Pay attention to him and his

material, you will be glad you did.

Vic is one of the best things that has ever happened to my business." - Bob Proctor, International best-selling author of You Were Born Rich.
"He understands and applies the principles of successful Internet marketing as few in this industry do."
"I've watched Vic Johnson come into an industry with no experience and no connections and in just a few years develop one of the most successful personal development sites on the web. He understands and applies the principles of successful Internet marketing as few in this industry do. He's the real deal!" – Kyle Wilson, President, Jim Rohn International
"If your goal is to create a six-figure income via the Internet listen to Vic Johnson -- he's truly a master."

"Vic is truly a master. He took an idea, a dream, a vision he had, and methodically built it into a mini-empire. Vic is not only one of the most prolific marketers on the Internet today; from dealing with him personally on numerous occasions, I can also vouch that he's one of the most honest, ethical and downright nicest, as well. It's often been said that 'if you want to find the diamond mine, first get yourself the best possible map.' If your goal is to create a Six-Figure income via the Internet, then the map – in this case – has an actual name. It's Vic Johnson!" - Bob Burg, best-selling author of Endless Referrals.

"I wouldn't have done this site without your influence."

"We met last November at Your Mind, Your Marketing, Your Money and spoke after that about my idea for doing a foie gras web site.

Well the site launched yesterday and I think it looks great. The site is fully search engine optimized and we are doing pay-per-click and affiliate programs. I learned about all this from you and your CDs "How I Created a Six-Figure Income Giving Away a Dead Guy's Book".

I want to thank you for the inspiration and information you provided in person and on your CDs. I wouldn't have done this site without your influence." - Laurel P., http://www.enjoyfoiegras.com

UPDATE: "I wanted to give you an update on EnjoyFoieGras.com. It's now been a year and four months since we launched the site. As of this week, we now have first-page placement on our most important key word, foie gras, on Google, MSN and Yahoo!

I want to thank you again for the inspiration and ideas you provided that made this whole adventure possible. Not only do we have an (almost) passive stream of income, but we have had a lot of fun learning."

"Vic is a true-to-life "rags to riches" story."
"He started as most of us do, with nothing, and then went downhill from there... He now helps thousands of people understand that they are in total control of their own destiny and shows them how to dramatically turn their lives toward an exciting direction. Vic has become a master at providing resources that lead people to higher levels of success and happiness." Randy "Dr. Proactive" Gilbert, author of Success Bound.

"You may not know Vic Johnson...but you should."
"You may not know Vic Johnson, because he's a behind the scenes guy...but you should. He's actively involved in developing the promotion plans and operating the web sites for several of the Celebrity Names in the Personal Development field...." - Ted Ciuba, Internet Marketing Guru and author of Mail and Grow Rich.
How I Created a Six-Figure Income Giving Away a Dead Guy's Book is available on convenient Audio CDs or
download and listen now



Two full-length audio CDs in a durable storage case
Shipped anywhere in the world for a modest shipping fee
Includes 100% Money Back Satisfaction Guarantee
Order CDs or download and listen now

Reg. $109 SAVE $42
Download Now $47 Or CDs $67

Important Note: This program is a 25 MB download broken up into two sections. If you have DSL, cable or other broadband, each section will download in one-five minutes, depending on your connection. If you have a 56K or slower modem, please purchase the CD's below.
Read this part carefully (it's a "legitimate bribe"):
Order by and collect these "Legitimate Bribes":
How I Created a Six Figure Income Book
When Vic Johnson launched a simple and basic website in 2001, hoping just to make an extra $10,000-$15,000 a year, little did he know that it would mushroom to six profitable sites serving more than 300,000 subscribers around the world. This book details the actual steps he took to build a seven-figure business he runs with a laptop computer. Buy the book at Amazon for $12.95 or get it FREE when you order the CD's above.

(Legitimate Bribe #2) 101 Best Tools & Resources for Running Your Internet Business Effectively - this new eBook by long-time Infopreneur Michael Angier lists the top must-have tools and resources Infopreneurs use to get more done with less hassle. Sells every day for $17.95.
(Legitimate Bribe #3) No Market Too Small is an audio recording of a highly acclaimed presentation I delivered to a live audience on the power of marketing to niches. It includes my seven steps to go from idea to market. Sells for $19.95.
(Legitimate Bribe #4) Vic's Million Dollar Roladex - the never before released listing of the actual vendors and resources I've used (including web hosting, merchant accounts, shopping cart, affiliate program and more) to earn more than a million dollars from my Internet businesses. Value: Priceless! (this item alone is worth far more than the cost of the program in the money it can save you from making the wrong choices.)
If you've read this far and you still haven't ordered then I'm going to assume two things about you:
You definitely have an interest in this product or you would not have gotten this far, and,

Even though you're interested, you still have reservations about ordering.
If I've assumed correctly then let me put your mind at ease...
Our Guarantee to You!


Your Purchase Is Backed By Our 100% Satisfaction, No-Risk Money Back Guarantee!
Will

this information work for you?

I don't know. That's truly up to you.

What I can tell you is that
if you've been considering building an income from the Internet and you're really not sure where to start or what to do, this may be the most comprehensive (yet simple) introduction you'll find anywhere. And it's information that anyone...with any educational level...with or without technical knowledge...can profit from.
I've made this program relatively easy to own. Based on what other people are selling "how to" programs for, I could easily get three, four or five times my asking price. And the fact is, most of the "how to" programs are sold by people who never sold anything on the Internet...except "how to" programs. But my motivation is not just profit --- this is information that can help a lot of people get out of dead end jobs, create a nest egg for retirement, and begin using the creative energy they were designed to use. For some people who are like I was in 1997, this is an answer to prayer.
Whether you buy today or not (and I sincerely hope you do), your visit here today has made another contribution to my success on the Internet. And for that you have my eternal gratitude, and I wish you the very best in all your endeavors.
Always remember -- there's No Dream Too Big! Get started on yours today.
Sincerely,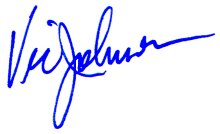 Vic Johnson
http://www.AsAManThinketh.net
http://www.mp3Motivators.com
http://www.MyDailyInsights.com
http://www.Goals-2-Go.com
http://www.VicJohnson.com
http://www.ClaimYourPowerNow.com

P.S. Please know that I'd love to have your business. I value each and every one of my customers and subscribers. But the truth is, you've got a lot more to gain from the purchase of this program than I do. Stop and think about it. Whether you buy this program or not, I'm going to get up in the morning, grab a cup of coffee, fire my laptop up, and see how much money I made the night before while I was sleeping. And if it's like most nights, it's going to be a pile of cash. Not because I'm so smart -- but because I recognized an opportunity -- and acted on it! If you'd like an opportunity to do the same thing, take advantage of my risk-free guarantee and order today.


Don't have a credit card? Here are two options for payment:

1. Click on your choice above so you can determine shipping costs.

2. Make out your check (U.S. Only) and fax it to us at 877-233-1557 and we'll process it electronically (be sure and record in your checkbook).

3. Send a check (U.S. Only) or money order in U.S. Dollars to:

AsAManThinketh.net LLC
PO Box 1220
Melrose, FL 32666 USA

Be sure and include your name, email address and product you are ordering.


Earnings Disclaimer: Every effort has been made to accurately represent our product and it's potential. Any claims made of actual earnings or examples of actual results can be verified upon request. The testimonials and examples used are exceptional results, don't apply to the average purchaser and are not intended to represent or guarantee that anyone will achieve the same or similar results. Each individual's success depends on his or her background, dedication, desire and motivation. As with any business endeavor, there is an inherent risk of loss of capital and there is no guarantee that you will earn any money.

Copyright © 2004-2008 No Dream Too Big LLC. All rights reserved.