...And a Once In A Lifetime Opportunity
to Turn Your Hobby or Passion (or Any
Idea for that Matter) Into a Monthly Income
From Amazon, Apple and The Other Big
eBook Retailers!
USA Today: Amazon Now Selling More eBooks Than Print Books
It had to happen sometime, and Amazon.com announced today that it's now selling more electronic books through its Kindle e-readers than it is selling printed books.
Kindle book sales are up three-fold so far this year, and Amazon's combined U.S. Kindle and printed books business is now growing faster than it has in 10 years, when sizzling growth was easier to post because the previous year's base was much smaller than it is now. USA Today - 5/19/2011
Huffington Post: 26-Year-Old Makes Millions From eBook Sales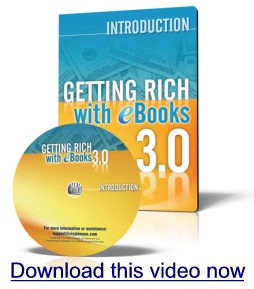 Unknown, living paycheck to paycheck in Austin, Minnesota, rejected by publishers all over New York, Amanda Hocking decided to self-publish on ebook platforms only. She sold 100,000 of her works in December, and over 10 months she's sold more than 900,000. She's 26 and is now making enough money to quit her day job and become a full time writer, in fact she's a millionaire. She's going to be featured in Elle Magazine's April issue, all without what everyone thought was essential to make it as a writer: a big New York publishing house. - Huffington Post 3/1/2011
"Selling eBooks Basically Changed My Life"
H.P. Mallory, another self-published paranormal e-novelist, has sold 70,000 copies of her e-books since July. Her success caught the attention of traditional publisher Random House, with whom she just signed a three-book contract. "Selling e-books on Kindle and Barnesandnoble.com basically changed my life," Mallory says. "I never would have gotten where I am today if I hadn't." - USA Today 2/9/2011
Learn the Six Simple Steps You Can Use to Get Started Today -- They're All Laid Out For You in This Complimentary Webinar Video. Get The Video Now...